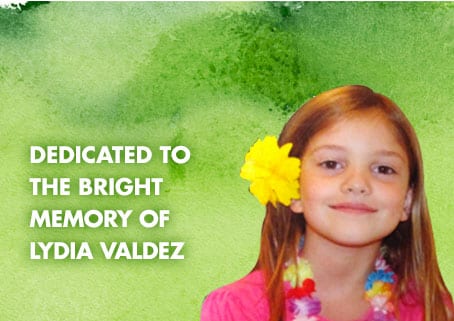 At the young age of seven, Lydia was facing extreme health issues.  After many doctors' visits, she was given the devastating news that she had cancer.   As you can imagine, her family was filled with fear and turmoil.   During the next two years of treatment, she was introduced to Camp Sunshine, a retreat for children with life threatening illnesses and their families.  While at Camp Sunshine, Lydia and her family were overwhelmed by the kindness and love shown by the staff  even while in an environment that should have been surrounded by so much sadness.  That brief week was a time to forget about it all and be encouraged and uplifted.  The atmosphere of hope was just the thing her family needed to help them through such a difficult time.
Lydia was wise beyond her years and never once did she feel sorry for herself.  As a matter of fact, she spent a lot of her time encouraging others not to feel sad.   She learned a valuable lesson in her short life as she spoke of in this quote.   We call it  "Lydia's Wisdom":  

Lydia Valdez:  She was and is to this day, the inspiration for Lydia's House of Hope,.  She fought for her life and never gave up, no matter how much pain she endured.  She was wise for her age and she had a sense of passion for others that still lives on today in her paintings and artwork placed throughout the house.  Her families tragedy and sorrow, has brought about change, hope, and happiness to so many here.  Her spirit lives on in every child's laughter, every meal around the table, every struggle and triumph that is experienced.
Lydia's stepmom came to Seeds of Faith with a simple desire to find out how she could help.  After hearing about our plans for a Transitional House that will provide love, security, and hope to those how have been living without hope for so long, she was immediately reminded of Camp Sunshine.  The experience there had made such a difference in their young daughters life.   With their daughters memory in mind, this beautiful family announced that they will be giving a transformative gift to Seeds Of Faith in honor of Lydia.
 Her family watched her happiness when she attended Camp Sunshine.  They were so moved by the love and compassion the staff showed for the children who came to the camp, and their dedication to make sure that every child felt special and loved.  That feeling and what it did for Lydia in her time of need and struggle make them want to share and show that compassion for others who may need it.  They wanted this to honor Lydia's memory